Writing is a fundamental skill in the modern world. Whether you're crafting a novel or writing an important business document, the right software can make all the difference. Wordhero AI Writing Software is one such product that promises to help people create clear, concise, and well-crafted documents faster than ever before. But is it really worth the cost? In this Wordhero Review, we will investigate this AI writing tool to determine if it's a good choice for both professional and amateur writers alike.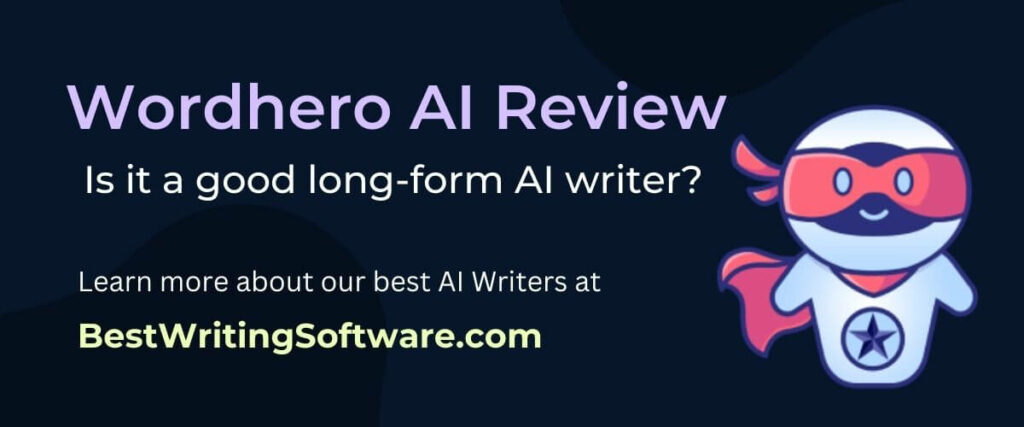 What is Wordhero?
Wordhero is a new AI-driven writing software designed to help writers create better content faster. Wordhero ai uses innovative technology and artificial intelligence to generate original content faster and more effectively, helping you overcome writer's block and save hours of your time. Aimed at both professional and novice writers, Wordhero offers many intuitive AI writing tools for writing almost anything from marketing copy, product descriptions, Quora answers, and food recipes to full-length blog posts, long articles, books, and novels. Also, Wordhero has many great features for optimizing web content for search engine optimization (SEO) purposes, making it a great AI writer for copywriters, marketers, authors, and professional writers.
Save 50% on Wordhero monthly or get the lifetime deal
But does Wordhero really live up to its claims? That's what this Wordhero review aims to answer. In it, we'll explore the features that make Wordhero stand out from other writing software on the market – as well as look at some possible drawbacks. So if you're looking for a tool that can make your editorial process smoother and more efficient, keep reading!
Wordhero Features
Wordhero AI Dashboard
Wordhero AI has a user-friendly, intuitive user interface that's perfect for creating great-looking writing. Also, there are more than 70 writing tools in Wordhero AI to fit any writing occasion. You can compose anything from news stories, essays, novels, and other lengthy compositions to food recipes, narratives, social-media advertisements, announcements, conclusions, web product descriptions, and much more on Wordhero AI! Wordhero AI can use over 100 different languages, which means you can produce a lot of content outside of languages you understand.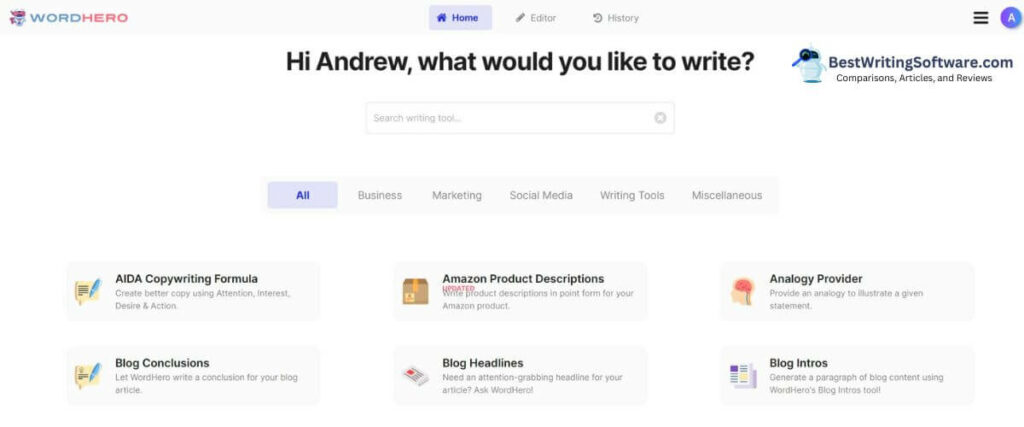 Wordhero AI writing tools:
Wordhero ai has many AI writing tools to fit any writing use case including copywriting, marketing, emails, E-commerce, blog posts, articles, books, and much more. Wordhero is constantly adding new tools and updating its existing tools with the latest AI technology including GPT-3, GPT-4, and beyond.
Below is a list of the AI writing tools included in Wordhero:
Wordhero Long-form Editor
One of the best features of Wordhero is the Long-form Editor. It lets you generate long-form content easier and faster. Wordhero long-form editor combines all the AI writing tools into one tool. You can easily navigate between the writing tools to generate your content. Additionally, the long-form editor has quick one-click buttons like "Write More", "Blog Paragraph", and "Blog Outline" to make content generation even faster. You can work on multiple writing projects simultaneously and organize them into projects.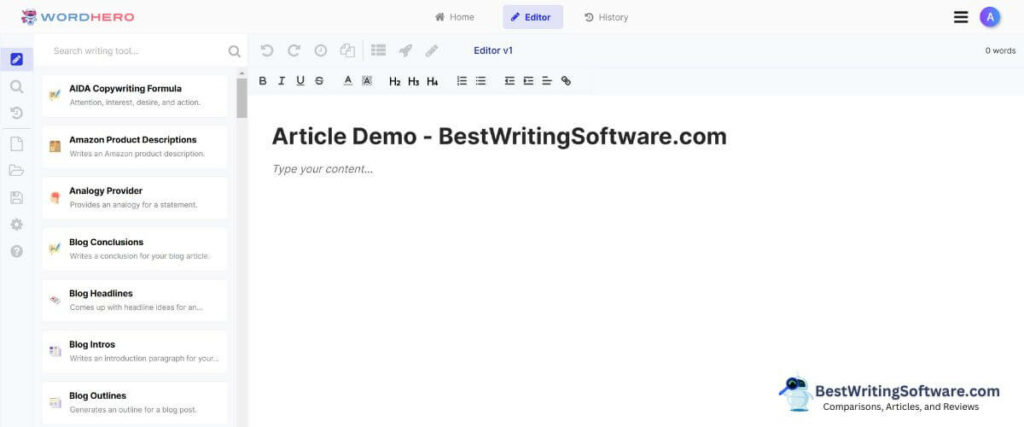 Your writing progress is always saved in Wordhero automatically so you can resume writing later. Overall, Wordhero long-form editor is one of the best tools for writing any long-form content such as blog posts, articles, books, novels, essays, and more.
Watch this video to see how you can generate a blog article of 1000 words or more with a few clicks:
Wordhero Content Quality
Based on our testing, Wordhero generates high-quality content, almost like human-written content. Overall, it is a great AI writing assistant that can help you overcome writer's block and generate content faster and more efficiently. You may need to fact-check the generated content (it's recommended) to ensure that your content is factual. However, that is the case with any AI writing software.
In terms of originality, the content generated with Wordhero is unique. It passed Copyscape on all of our tests, which means that you can confidently post this content on your blog or website without having to worry about duplicate content or getting penalized by Google.
Additionally, Wordhero states on its website that users should never worry about duplicate content because Wordhero uses artificial intelligence, advanced languages, and algorithms to generate its content. It does not copy content from online sources or websites. We found that to be true and we recommend using Wordhero for generating original (plagiarism-free) high-quality content.
Wordhero Pros and Cons: The Good & Bad
Wordhero Pros
Wordhero AI writing software is user-friendly and easy to use.
It helps with content generation, formatting, and proofreading.
It has a wide range of features including an intuitive long-form editor.
It offers many AI writing tools for writing any type of content.
It can generate content in over 100 languages.
It saves content automatically and stores it in the history tab.
Wordhero Cons
It does not have a one-click article generation similar to Jasper.
It does not have a plagiarism checker, but that is planned to be added in the next updates.
Pricing: How Much is it?
Wordhero pricing starts at $49 for unlimited words per month. Wordhero yearly plan is only $348 which saves you over 40%. You will receive full access to all the features, including the long-form editor and keyword assistant. Also, Wordhero offers a lifetime deal for a limited time for as little as $89 so grab it while it's still available.
Whether you choose the monthly plan or the lifetime plan, we recommend that you chose a plan that included (the long-form editor and keyword assistant tool) as these tools can really speed up your content generation especially if you plan to write any long-form content with Wordhero.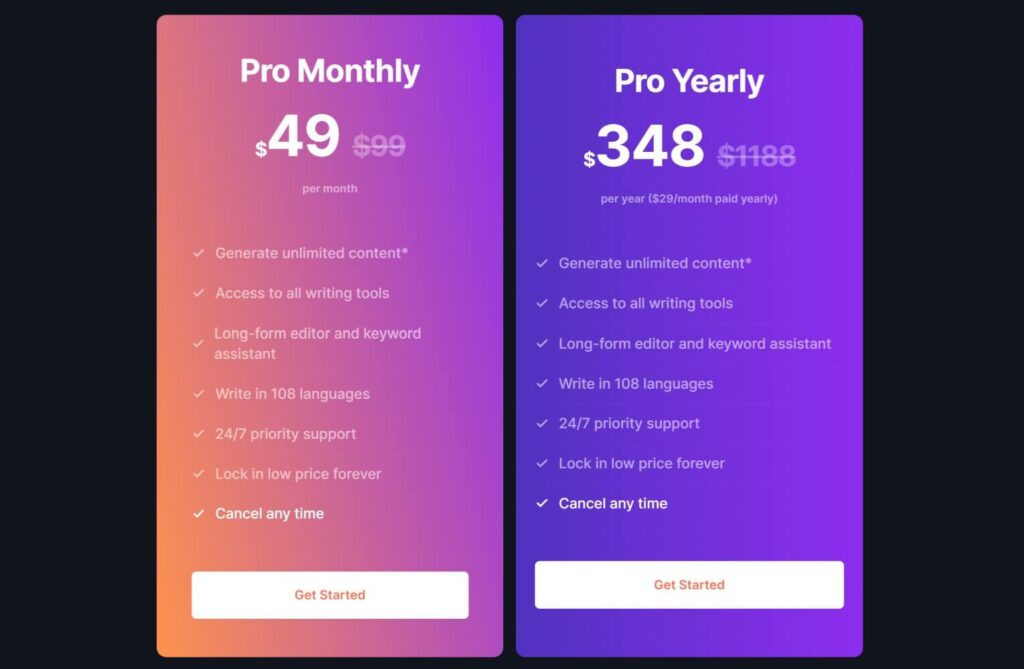 Wordhero Reviews and Feedback
Wordhero has many great verified reviews and positive feedback. Wordhero is packed with features that make it an ideal choice for anyone looking for a comprehensive writing assistant. Overall, we give it 4.5/5 stars because it generates high-quality content and offers the best value for the money. It has an easy user interface with many great features and AI writing tools with the support of over 100 languages. It's well worth the investment in our opinion.
Here are some of Wordhero customer reviews:
Loving it! ‍I've been using WordHero for a while now and I absolutely love it! It's helped me streamline my writing process and the output is always high-quality. I've used it for social media posts and generating blog content outlines and I've been really happy with the results. Its value far exceeds its price. I highly recommend it for anyone who struggles with writing or just wants to make their life easier.

– Mariyam
Surprisingly Awesome!‍ I am a website designer and a good one. So when I would create a website for a client they had to provide the content for articles, etc. Now I can increase my fees by adding on content options…they only need to provide me with bullet list ideas of what they want their content to include and I'll create it with WordHero. I have my hands on a great product and I give you 5 stars! Thank you, thank you, thank you!

– A9daa
Extremely happy! I went with a LOT of AI writers. I'm a blog writer that also does a lot of self-publishing stories on Amazon. This thing is a huge time saver. Okay, I wouldn't try to use this to make a book all on its own, but it helps so much with writer's block. I can do 8 hours of work in 2 hours. The customer service has been amazing too. They got back to me really fast when I asked about an issue I was having. I'm extremely happy.

– James.c.lapaz
Wordhero Alternatives: Other Solutions
One of the best Wordhero alternatives is Jasper and Writesonic, both offer similar features and include a long-form editor with many great options. If you are looking for the best overall AI writing software, we recommend checking Jasper as it has everything you need including one-click article generation, boss mode, and many useful integrations with other writing tools. To learn more, check our Jasper review.
Conclusion: Final Thoughts
In conclusion, Wordhero AI writing software is a powerful tool for any writer looking for an efficient way to improve their writing. It can help you overcome writer's block, improve your writing, and speed up your content generation without sacrificing quality. Wordhero combines the latest advancements in artificial intelligence with a comprehensive set of tools and features to help writers of all levels refine and perfect their work. The long-form editor (rich-text editor) is really one of the best editors that we tested among other AI writers and it helps you manage multiple writing projects with ease.
Lastly, Wordhero pricing is cheaper than other AI writing software. And for a limited time, you can grab a lifetime deal to save even more money so grab it while you still can. Overall, Wordhero is one of the best AI writing software that we tested and we highly recommend that you give it a try.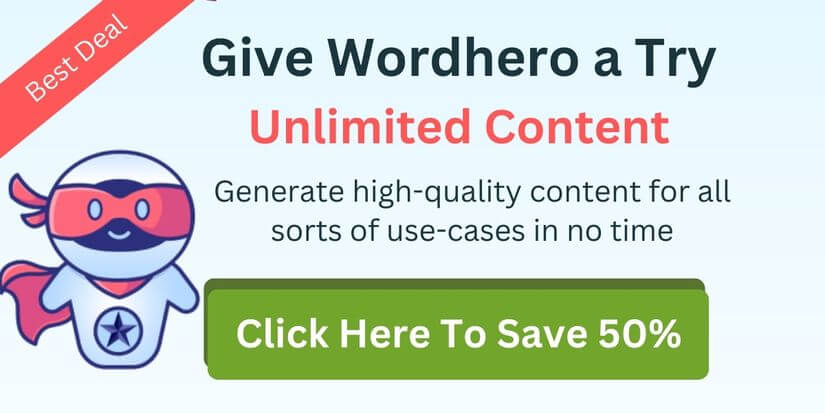 Wordhero FAQs:
Does Wordhero replace the need for human writers?
Wordhero is a powerful writing assistant that can help writers create compelling content quickly and efficiently. However, it does not completely replace the need for human writers. We recommend that you fact-check the content generated by Wordhero and add your own input to bring your unique perspective and voice to your content which are essential elements in creating successful stories, articles, and other written works.
The bottom line is, Wordhero does 80% of the work and can save you a lot of time. but you need to do your 20% by adding your unique perspective to the content before publishing. With that being said, AI technology is evolving fast and the smarter it gets, the better quality and content it will generate.
What AI technology does Wordhero use?
Wordhero uses artificial intelligence powered by GPT-3 (currently the latest AI technology) and advanced language models with 175 billion parameters. WordHero's powerful AI engine makes it easier to expand your vocabulary and create more interesting pieces of writing. Overall, WordHero is an excellent tool for writers who want to improve their writing skills with the help of advanced AI technology.
What is the content quality of Wordhero?
Based on our testing, Wordhero can generate high-quality content that is both original (plagiarism-free) and informative. The content passed our Copyscape test and it was informative for the subjects that we tested. Additionally, the content was easy to read and understand due to its clear and concise writing style.
Wordhero uses the latest AI technology with 175 billion parameters, which means that it can cover almost any topic, from lifestyle to business. Finally, Wordhero can also help with proofreading, spell-checking, and fixing grammar issues. It has its own Grammar checker tool which is a nice addition to further improve your content generation quality.
What types of content can you write with Wordhero?
Wordhero has many AI writing tools (AI templates) that can generate almost any type of content quickly and easily. With WordHero, you can write anything from blog posts, essays, books, and articles to website copy, press releases, white papers, product descriptions, emails, cover letters, social media posts, online ads, and much more. Check all the AI writing templates in Wordhero.
Is Wordhero a good AI copywriting writing software?
Wordhero is an AI copywriting software that can help you generate content quickly and easily while helping you improve your writing skills. It allows you to craft compelling stories, create persuasive headlines, develop effective ad copy, and more.
Additionally, one of the AI writing tools in Wordhero is the AIDA Copywriting Formula, which lets you create an AIDA (Attention, Interest, Desire, Action) copy for your product or service. Overall, Wordhero is a great copywriting tool for anyone who needs to create quality content in less time.
Can you use Wordhero to write blog posts?
Yes, Wordhero is a great content writing tool for writing blog posts. It has a long-form editor with over 70 AI writing tools to let you generate full-length articles and blog posts in less time.
Also, it has a keyword assistant tool that lets you add SEO keywords, then the AI will attempt to add these keywords automatically into your content. This helps in writing SEO-optimized blog posts and optimizing content for search engine rankings.
Does Wordhero offer unlimited content (words)?
Who can benefit from AI content writing with Wordhero?
Wordhero is great research and writing tool powered by AI for anyone looking to save time and energy while creating content. Whether you are a beginner writer, a freelance writer, a book author, a content marketer, or a professional writer, Wordhero can help you create high-quality content quickly and easily.
Also, Wordhero is good if you are a small business owner who is trying to create some content for your product or service, or if you are a large corporation with a team of content writers or marketers to assist with content generation and saving costs. With its intuitive interface and fast results, Wordhero is a great tool for anyone looking to create engaging content efficiently.
How does Wordhero compare to other AI content writers?
Based on our testing, what makes Wordhero special is its user-friendly interface with lots of useful AI tools and features. Also, its long-form editor is unique and makes the process of writing long blog articles easier.
Lastly, Wordhero is very affordable compared to other writers and it offers unlimited words per month, which is great if you plan on generating a large number of articles on a regular basis.
When you compare Wodhero with other top AI writers, there are a few missing features such as the one-click article generation, boss mode, and plagiarism checker. These features can be found in Jasper and this is why Jasper wins the competition against Wordhero in terms of features. Also, Jasper wins in terms of API integrations and flexibility of use. Lastly, Jasper has a Google Chrome extension that allows you to take your AI writing anywhere you write online which is powerful. To compare Jasper against Wordhero, read our Jasper review.
Does Wordhero offer a Lifetime deal?
Yes, Wordhero is currently offering a lifetime deal for a limited time only. You can pay $89 one-time to get 20,000 words per month and get access to all the AI writing tools in Wordhero (except long-form editor and keyword assistant tools). Or you can pay $267 one-time to get unlimited words per month and get access to all the AI writing tools in Wordhero including long-form editor and keyword assistant tools.
We recommend going with the $267 deal as it offers the best value for the money, not only it allows you to generate unlimited content but also you it gives you access to the long-form editor which is very useful for writing long-form content.
Does Wordhero offer a free trial plan?
Currently, Wordhero does not offer a free trial but you can try Wordhero risk-free for 14 days to see if it is right for your content needs. If you are not happy within 14 days, you can ask for a refund.
Overall, we think Wordhero is a great value and it would help you improve your writing and generate better content fast and efficiently. Try Wordhero and see what it can do for you.
We hope that you enjoyed reading this Wordhero review. Let us know what you think in the comments.