AI technology is constantly evolving, and with it, so too do the ways in which AI writers can be used. AI writers can be used for automated writing tasks such as article writing, blog post writing, marketing copy, article rewriting, and even book writing. Jasper AI is an AI-powered content creation platform that promises to help human writers write better and faster. But how good is Jasper AI? And can it replace human writers? In this Jasper AI review, we'll look at what Jasper AI has to offer, its features, and whether or not it can replace human writers.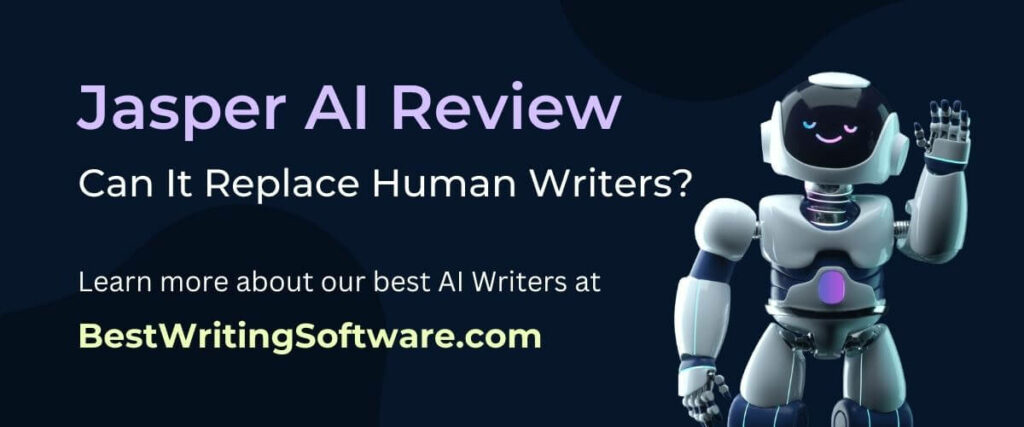 What is Jasper AI?
Jasper AI is a content creation platform that automates the writing process. Through the use of artificial intelligence, Jasper AI can take in data and generate unique content based on that information. Jasper can produce high-quality content quickly and efficiently. It's one of the best writing assistant tools for copywriters, bloggers, marketers, and content creators.
Jasper has many useful features with over 50 writing tools and 29 languages to fit most use cases. It also has seamless integrations with other popular writing tools. Additionally, Jasper has a Google chrome extension to bring AI into your workflow to improve & create content, wherever you are. Jasper is one of our best AI writing software, and for good reason. Watch this introduction video below to see what you can do with it.
Try Jasper for free. Click the button below to get 10,000 words for free
Jasper AI templates
Jasper has many AI templates or writing tools to fit most use cases. From writing compelling marketing copies, Facebook Ads, and Youtube Video descriptions to writing full blog posts, stories, books, recipes, and much more.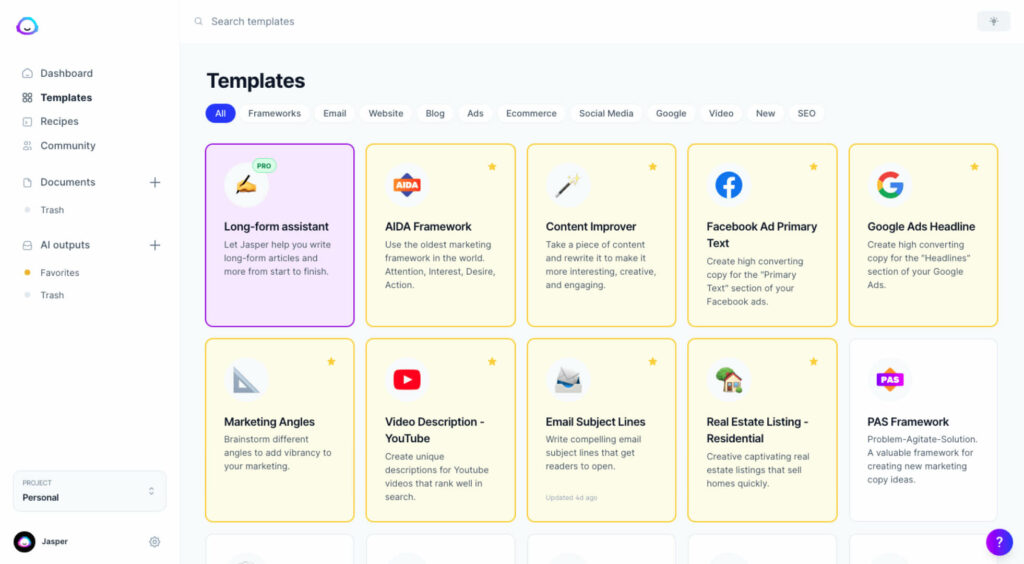 What are the benefits of using Jasper AI?
Jasper ai offers a myriad of advantages for content generation, allowing users to leverage the power of artificial intelligence in order to expedite and improve the quality of their output. Through its deep learning capabilities, Jasper ai can accurately identify concepts and relationships between them, providing valuable insights that can be used to quickly produce high-quality content. Additionally, Jasper ai's natural language processing algorithms are able to automatically generate textual content from inputs and structured data, further streamlining the generation process.
From writing articles, blog posts, social media ads, and email content to books, novels, and recipes, Jasper ai offers many useful tools to assist writers in producing high-quality content saving time and costs. If you are looking for a writing assistant to help you write articles quickly and accurately and overcome writer's block, Jasper ai is a cost-effective solution.
Optimizing content for SEO in Jasper
Jasper can help you optimize content for SEO and increase your chances of ranking in search engines. It integrates with SEOSurfer to provide you with content scoring and allows you to optimize your content with semantic SEO keywords, and lets you find relevant subheadings. It will analyze your competition on Google and tells you exactly what you need to do with your content to rank in the search engines. With this integration, you can access all the powerful features from SurferSEO inside Jasper.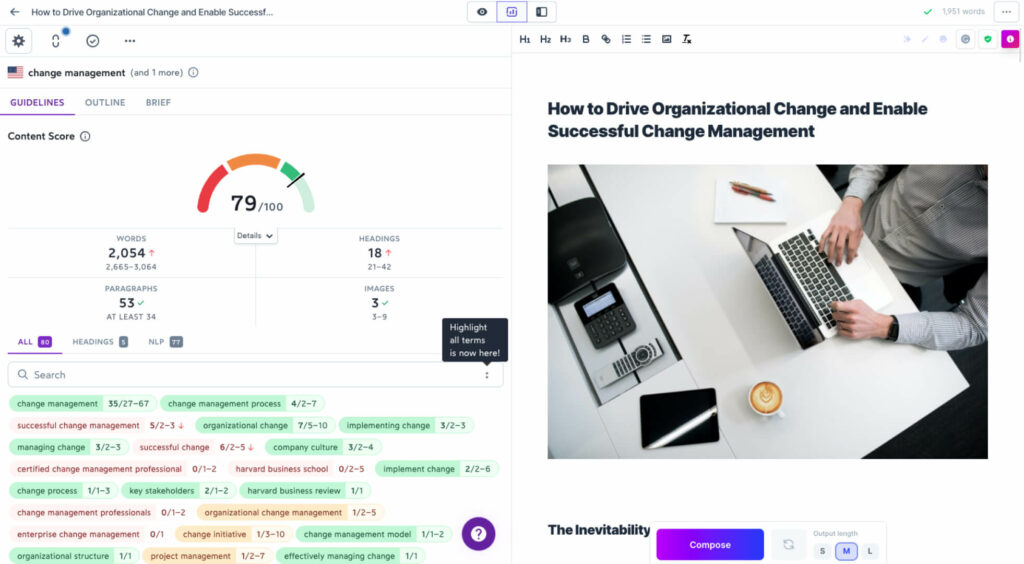 How does Jasper ai work?
Jasper AI is a sophisticated artificial intelligence system that utilizes a combination of deep learning techniques and natural language processing (NLP) algorithms to interpret user input. Its primary methods of operation include semantic analysis, machine reasoning, and self-learning capabilities.
Jasper works in a few simple steps:
You simply tell Jasper ai what you want to write by entering the text or using the Boss mode which lets you command the AI to write for you.
Then, Jasper ai gathers relevant information from search engines, blogs, and other sources. Jasper can read the internet, do topic research, and find relevant information like a human writer. After all of this information is gathered, Jasper ai creates a unique draft of the article or piece of content that you want to create.
Finally, you can make changes to the draft using the Jasper text-rich editor, you can send it to your writer for further editing, or you can publish it on your blog.
Jasper's One-Shot Blog post (creating blog posts with one click)
One of the best features of Jasper is the One-shot blog post which lets you create a full blog post in one click. The one-shot blog in Jasper AI utilizes cutting-edge artificial intelligence technology to help you quickly compose a draft blog around any topic. This is meant to provide you with a quick draft with minimal effort. You can then expand the content further, add your own words, or make changes to generate the final article.
Watch how Jasper's One-shot blog post works in this video:
Try Jasper for free. Click the button below to get 10,000 words for free
Jasper's AI art and Image creation tool
Another powerful feature is Jasper's AI art generator tool which lets you create unique images and photos in seconds. There is no need to hunt for stock images or wait weeks for new creatives. You can create a unique art image or photo to complement your message.
Watch how Jasper's AI art generator tool works in this video:
When you sign up for Jasper, you get access to all of our tools, including Jasper's AI generator tool at no extra cost.
So, is Jasper AI a good AI writer?
Yes, based on our testing, Jasper ai is a smart AI writer that can save a lot of time writing articles. It is not perfect or a complete replacement for a human writer but it can definitely help anyone generate better content faster and more efficiently. Plus it can help with writing in other languages, and help eliminate writer's block by providing topics and ideas when writing any piece of content, so Jasper is a great AI writing assistant for writers, bloggers, marketers, or anyone looking to create content.
The content generated with Jasper ai is unique, plagiarism-free, and high-quality. Most of the time it would provide useful information as it's mostly accurate and can help you write about any topic. Additionally, the boss mode makes Jasper unique as it lets you command the AI to write content for you as if you are speaking to a human writer sitting next to you. Overall, Jasper is packed with many great features and integrations that can make your life easier as a content creator.
Are there any downsides to using Jasper AI?
Honestly, there aren't many downsides to using Jasper. Once you get used to using the AI writing tools and templates in Jasper, you will realize how useful this can be to your content creation workflow and your content marketing.
First, one of the drawbacks is that it is not free but you can get 10,000 free words using this link to test it out. Jasper costs $24 per month for the basic plan and then $49 per month for the premium plan. Since you are getting a high-quality AI writer, this price is well worth it. Not only, it is can help you cut the time needed to generate content but it can also save you money in the long term as you don't need to put the same effort into your content generation.
Second, Jasper ai is not a perfect tool. Sometimes it may make mistakes and you may need to fact-check what it writes. However, that is the case with any AI writer. The good news is AI is constantly evolving and improving. The team behind Jasper AI has been improving their product and they use the latest AI technology to bring you the best content quality possible.
Overall, there are many benefits to using Jasper AI compared to its downsides. We recommend that you sign up for a free account to test all the writing tools and templates in Jasper for yourself.
Should you use Jasper AI to replace human writers?
Generally speaking, Jasper AI is not meant to be a complete replacement for human writers. It is meant to be a writing assistant to help you write better content faster and more efficiently. Although Jasper ai can create human-like original articles, it's always recommended to proofread and fact-check the content before it's published as is the case with any AI writer. Using Jasper ai along with a human writer is a great combination to speed up your content creation, save time writing articles, and improve the content output.
When it comes to writing, there are a few things that a human will always be better at than an artificial intelligence writer. For one, a human will always be able to take the time to craft a sentence that is both meaningful and engaging. Another thing that a human will always be better at is being able to contextualize their writing. They will know what the audience they are writing for is interested in and will be able to cater their writing to this. With that being said, AI writers are getting smarter and you can enter keywords or commands to guide the AI so that it stays on topic and provide relevant content to your audience. Jasper ai has powerful tools to let you guide the content so that it always provides the content output that you would expect.
If you'd like to hire a human writer for affordable prices, check our recommended site. Many bloggers are using Jasper ai along with their human writers to improve and scale up their content marketing strategy.
We recommend that you try Jasper ai even if you write your own articles or have human writers on your team because we believe that it will greatly help take your content creation to the next level. Sign up for a free account and claim 10,000 words of Jasper for free.
Jasper AI Review: Conclusion
Jasper AI is a great smart AI writing tool for anyone looking to improve their content and create powerful, engaging blog posts, marketing copy, special media ads, emails, product descriptions, and much more. With Jasper, you have access to over 50 AI templates to fit any use case and you can write in over 29 languages. You can easily activate Boss Mode to command the AI to write content for you, and you can write a blog in one click using Jasper's AI one-shot blog.
Additionally, you can integrate Jasper with your favorite tools including Hubspot and SEOSurfer. And you can use Jasper's Google Chrome extension to bring artificial intelligence into your content workflow. Jasper only starts at $24 per month which is a great price for everything you get.
This all makes Jasper a great choice! No matter if you're a professional blogger or a business owner looking to make an impact with your content, Jasper AI can work for you. So why wait? Try Jasper AI today and see what it can do for your content!